About Ocala Kitchen and bath, Inc.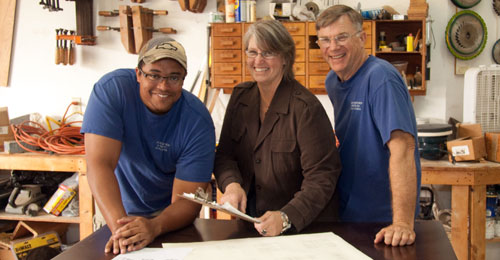 Ocala Kitchen and Bath Inc. was started by owners Milt and Jan Grosse in Ocala Florida. Since 1989, we've been creating custom handcrafted kitchens, bathroom cabinetry, libraries complete with matching beams and wainscot wall and ceiling paneling, custom bars, entertainment units, custom cabinetry, and custom woodwork for all areas of your home. We provide excellent quality service, craftsmanship, engineering, and stunning design. Our company has had our projects featured in National Magazines, major US Newspapers, and Local Publications.
Whether the style is Old World, Heirloom, Mediterranean, Grand European, Traditional, Classic, or Contemporary — there are no creative boundaries.
Timeless elegance, quality, beauty, and originality are the essence of our work portrayed with hand-painted artisan pieces, custom finishes, stains, rich details, countless design styles, and wood species. View our project gallery to see the details we put into every aspect of our work.
Florida Construction and Design Services
Milt Grosse of Ocala Kitchen and Bath Inc. is a State Certified Residential Contractor RC# CRC 053771. Our company is licensed to do complete remodeling and building. Ocala Kitchen and Bath Inc. is fully licensed and insured to protect your project and investment. Jan Grosse does all of the design, drawing, and engineering on the projects and organizes everything to keep your project moving smoothly. Brent Johnson, our shop foreman, makes sure the designs become reality. We pride ourselves on starting a project and working on it to competition in a timely and stress–free manner for the client. This kind of personal attention to the projects set us apart from other companies.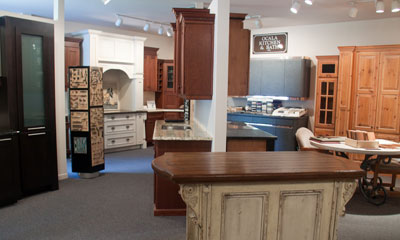 We offer complete Home Remodeling in the Ocala, Tampa, Orlando, and Central Florida areas. We can re-design a room or your entire home and take the project from concept, to design, and through all the phases of construction to a more functional beautiful new living space. We pride ourselves on careful planning and executing your needs and desires with all considerations evaluated, including cost, time, and design.
Our complete showroom and cabinet shop allows you to see all our products, discuss possibilities, and to experience the building of your custom cabinetry by being able to see it in progress. The personal communication between the staff and client is exceptional. Our installations are completed with our own staff and are not subcontracted out to ensure the perfectionism we are known for. Therefore you will get the very best quality in installation, construction, and engineering of your project.
Materials and Products
Custom Cabinetry
Our Cabinetry features European Full-Overlay Box Construction to maximize the amount of space inside your cabinetry. We feature all the interior amenities inside the cabinetry and state of the art Soft-Close full-extension drawer guides. We produce elevations and 3-D drawings of your project that will give you insight into the final look of the room. We are proud to produce handcrafted custom cabinetry and woodwork for all rooms in your home with innovative design and classic elegance no matter what style it is. Our company goal is to provide the finest quality, service, and value.
We offer many wood species such as Maple, Pine, Knotty Alder, Mahogany, Birch, Oak, Rustics. We also offer Exotics — Zebrawood, Wenge, Eucalyptus, Bamboo, Figured Anigre, Birdseye Maple, and many others.
Environmentally Friendly Design
We are environmental stewards using products from sustainable forests. Our finishes have the lowest or no VOC and our Cabinetry is CARB compliant to offer the most protection to your indoor environment.
Representing the Best in Cabinet and Countertop Production
We also represent several Custom and Semi-Custom Cabinet Companies, Jay Rambo Cabinet Co., Medallion Cabinet Co., The Grothouse Lumber Company, Habersham, and the Conestoga Wood Specialties Corporation. We can cover all budgets with these products and combine cabinetry in different areas to balance budgets.
Ocala Kitchen and Bath Inc. is a Certified DuPont Corian Fabricator and has fabricated Corian since its inception with Residential and Commercial projects. We also offer Granite and Quartz countertop products.
Ocala Kitchen and Bath Inc. is proud to offer materials and products made in America.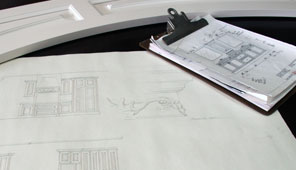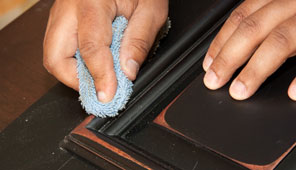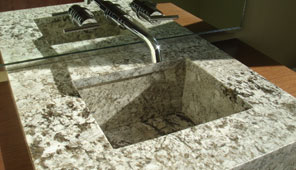 Ocala Kitchen and Bath Inc. of Ocala, Florida Awarded Best Of Design Houzz 2018
Over 40 Million Monthly Unique Users Nominated Best Home Building, Remodeling and Design Professionals in North America and Around the World
Ocala, USA January 1, 2018 – Ocala Kitchen and Bath Inc. of Ocala, Florida has won "Best Of Design" on Houzz®, the leading platform for home remodeling and design. The over 30-year old interior remodeling, custom cabinetry, and design firm was chosen by the more than 40 million monthly unique users that comprise the Houzz community from among more than one million active home building, remodeling and design industry professionals.
The Best Of Houzz is awarded annually in three categories: Design, Customer Service and Photography. Design award winners' work was the most popular among the more than 40 million monthly users on Houzz. Customer Service honors are based on several factors, including the number and quality of client reviews a professional received in 2017. Architecture and interior design photographers whose images were most popular are recognized with the Photography award. A "Best Of Houzz 2018" badge will appear on winners' profiles, as a sign of their commitment to excellence. These badges help homeowners identify popular and top-rated home professionals in every metro area on Houzz.
"The Houzz community selected a phenomenal group of Best of Houzz 2018 award winners, so this year's recipients should be very proud," said Liza Hausman, Vice President of Industry Marketing at Houzz. "Best of Houzz winners represent some of the most talented and customer-focused professionals in our industry, and we are extremely pleased to give them both this recognition and a platform on which to showcase their expertise."

Customer service
Our customers have been the best sales staff possible. They appreciate and enjoy the experience of working with us in the design, layout, and fulfillment of their project. Years after our customers are still impressed with how the project progressed on schedule with everything done in a professional manner.
We have been booked well in advance by "word of mouth" referrals and have made many lifelong friends of our clients.
We want to express our thanks to our clients for the opportunity to share with them our pride of workmanship in a beautiful job that reflects their personality and hopefully leaving them proud as well ... Thank You.